SOCIAL ENGINEERING ENGAGEMENT FRAMEWORK (SEEF)
If you are observing the social engineering landscape in terms of social engineers, documentation, and frameworks out there, you will realize the topic has, as we call it, a low maturity. Low maturity means there are no well-defined processes or defined frameworks in which professionals can apply and benchmark themselves. Today's landscape is little like the Wild West. There is lot of fear, uncertainty, and doubt (FUD).
With SEEF we want to oppose this situation. As you maybe have seen, our motto is visible on the book covers badge: Docendo – Discimus. It is a Latin proverb and means: "By teaching, we learn." This is what we want. We want to teach anyone interested in social engineering the skills to do it properly, professionally, and ethically. This is Social Engineering Engagement Management (SEEF) — FIRST CUT. It is literally the first cut of the framework that we have pioneered and want to share.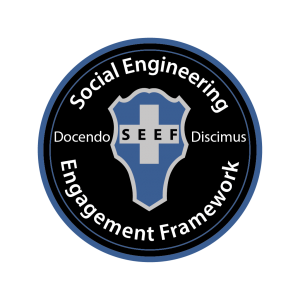 There are many different definitions of social engineering, but none of them seemed to fit for our purpose. Therefore, we had to create our own definition of social engineering as we understand it. We feel this definition matches perfectly with what we understand about social engineering. SEEF defines social engineering as follows:
"The elicitation of information from systems, networks or human beings through methods and tools"
SEEF Social Engineering Icons